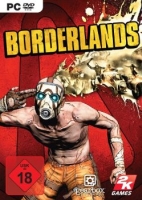 Borderlands - Frequently asked questions:
You are here: Home » Support for popular titles » Borderlands

Product information:
Website: http://www.borderlandsthegame.com
Media: DVD-ROM / Digital Download


Please find below a list of frequently asked questions we have collected for 'Borderlands':
Q: I experience issues with my game.
A: Please patch your game to the latest state via Steam.
If you have the disc version of the game follow this instructions how to get the Steam version and how to handle your DLCs.